The following is an excerpt from "Collective Action Behind Bars: A history of jail solidarity and its importance for today's social change movements, by Kris Hermes."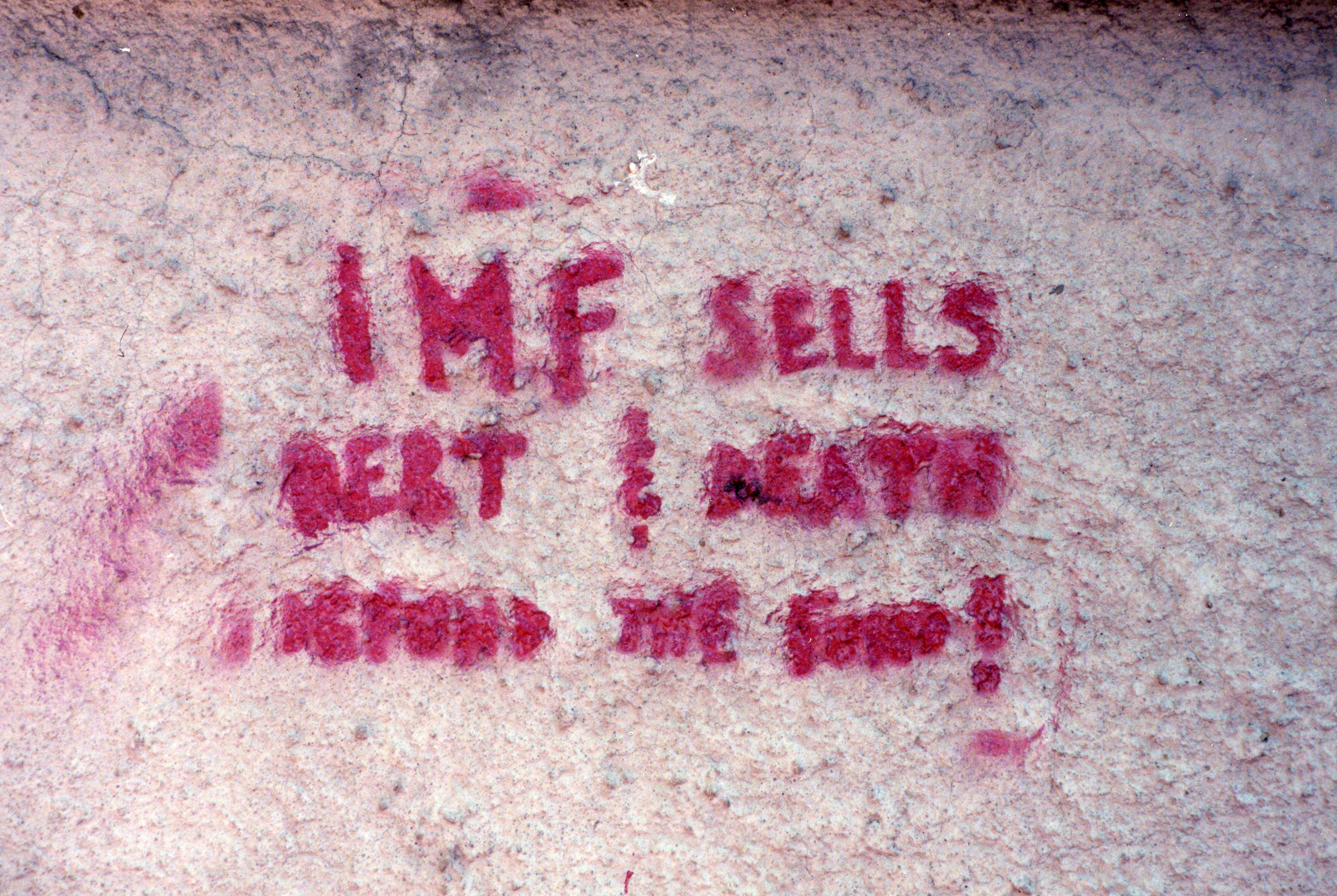 IMF Sells Debt. A16-2000 Mobilization for Global Justice IMF-World Bank Demonstration Protest on I between 17th and 18th Streets, NW, Washington, D.C. Image via Elvert Barnes Protest Photography/Flickr
"In April 2000, about 1,300 people were arrested while protesting the International Monetary Fund (IMF) and World Bank. Approximately 150 arrestees in Washington, DC refused to identify themselves and engaged in various jail solidarity tactics. Although some violence against arrestees had occurred early in the detention process, mainly by US Marshals, jail authorities allowed arrestees to meet in large groups for long periods of time. This allowed representatives from the gender-divided arrestee groups to meet with members of the legal team to strategize and discuss possible terms of negotiation. The representative arrestees then took what had been discussed back to the larger arrestee groups in order to gain consensus on how to proceed. On the third day, however, access to the legal team was cut-off and people were held in individual cells in order to stop them from meeting as a group. In response, approximately 60 male arrestees began a hunger strike. The warden quickly acquiesced, allowing arrestees to again meet and have access to the legal team.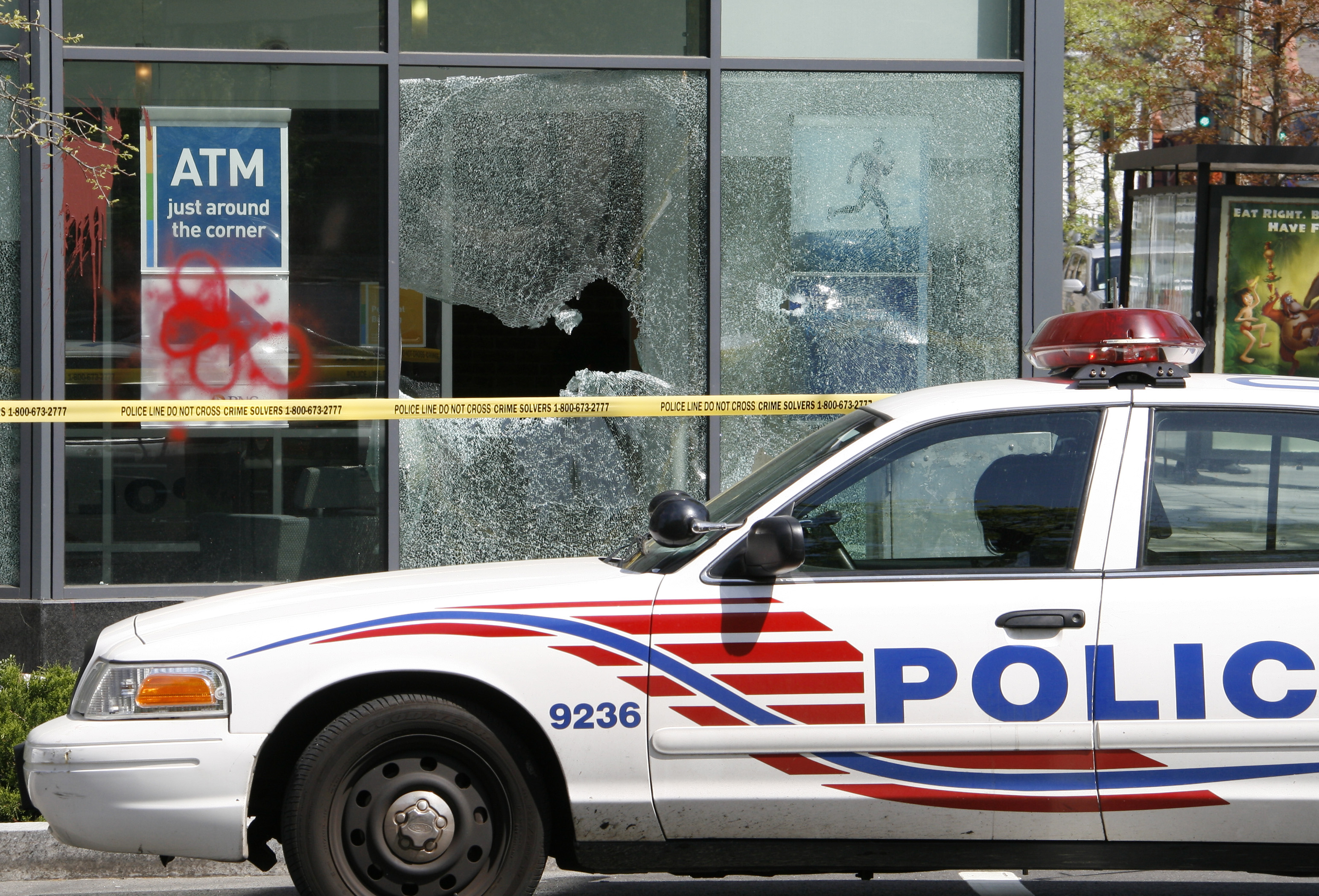 World Bank and International Monetary Fund protesters vandalized two bank branches (PNC & Wachovia) as well as vehicles parked at a Whole Foods Market in the Logan Circle neighborhood of Washington, D.C. Image via David King/Flickr.
Concerned that activists would have an influential effect on prisoners in general, jail authorities tried to pit one group against the other by putting general population arrestees on 23-hour lockdown and denying them visiting privileges, then blaming those restrictions on the protesters. This strategy failed, however, and instead created stronger bonds between the groups and compelled protesters to use solidarity tactics to end the general population lockdown and restore their visiting privileges. With authorities flustered by ongoing solidarity tactics and with supporters from around the country applying increased pressure on the mayor, police chief, and warden, a settlement agreement was reached. Almost all of the protesters were charged with the equivalent of a jaywalking ticket and a $5 fine.
While many of the jail solidarity tactics used by International Monetary Fund/World Bank arrestees were similar to tactics used in Seattle by WTO arrestees, the main difference was acquiescence by the District of Columbia officials in allowing IMF/ World Bank protesters to negotiate the terms of their release."
The following is an excerpt from "Collective Action Behind Bars: A history of jail solidarity and its importance for today's social change movements, by Kris Hermes."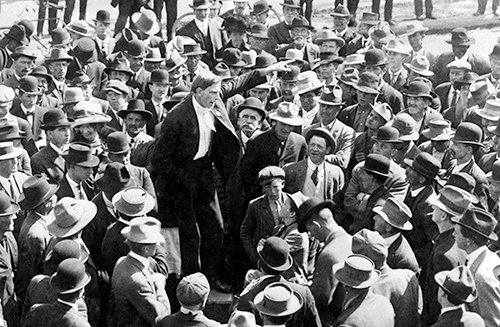 San Diego soapbox during Free Speech Fight 1912. Image via San Diego History Center.
"Beginning in 1908, Industrial Workers of the World (IWW) organizers (Wobblies) led an almost decade-long fight against the suppression of their right to speak out and organize. The most widely used tactic by the Wobblies was to strategically clog the local jails. Every Wobbly arrested for uttering the words, "Fellow workers and friends," was replaced by another willing to risk arrest. In this way, the largely single male, unemployed and temporary workers were able to flood the local jails beyond capacity, placing considerable pressure on local political and legal systems.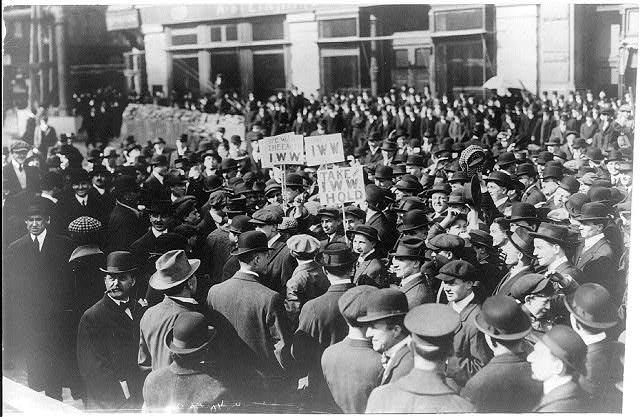 An IWW demonstration in New York City in 1914. Members of the Industrial Workers of the World (IWW), known as the Wobblies, gather together in a large crowd during a rally in Union Square, New York City, April 11, 1914. Image via Bain News Service/Interim Archives/Getty Images.
Labour historian Philip Foner claimed that, "Each Wobbly in jail demanded a separate trial by jury to clog the courts and administrative machinery." As author and academic Matthew May explains, the jailed free speech fighters also engaged in hunger strikes and passive resistance techniques, such as refusing to do manual labour. According to May, many free speech fights were hailed as victories, including in Spokane, where "the union went from about 30 members to having about 3,000 members on the books in about 6 months." The goal of repealing anti-free speech ordinances came at a significant cost, with many Wobblies being killed during the struggle."